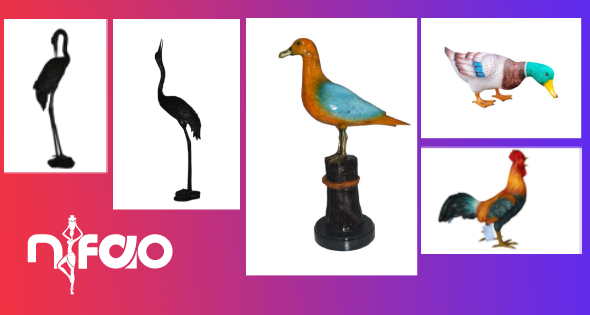 Birds represent life in the most beautiful and productive ways. They also signify freedom, from the elegant way they fly high in the sky, to the way they socialize with each other, almost every moment of their life is worth capturing. But their precious moments are not only captured by the camera, but many sculptors are also mesmerized by our feathery friends, too. That's why they also love to sculpt the priceless moments of the birds. You can use these bronze bird statues to decorate your home and garden because they have the magical ability to create a lively yet serene atmosphere.
Tips for Taking Care for Your Bronze Bird Statues
You can keep your Bronze sculptures either inside the house or outside in the garden. Although, mostly bird statues are kept outdoor places for providing a more natural environment. Now, you don't want your precious bird statues out there uncared for. That's why we are going to find out how you can make sure your outdoor bird sculptures are in the best condition.
Make Sure They are Secured
Since, you are keeping the bird statue outdoor in the garden, or by the fountain, or anywhere you please, they are going to fall victim to various disasters. A strong wind can displace your bronze bird statues if you don't secure them firmly in the place. So, whenever you are purchasing any sculpture for outdoor placing, secure their bases very well, so the statues, especially the lanky ones, don't fall over and get damaged. The same goes for hanging them – suspend them firmly with hooks so they are safely hooked in the place.
While your bronze bird statues perch in the garden, real birds might make themselves at home over them and defecate on the statues. And that doesn't make a great look for your bronze sculptures. To clean them, use soft fabric, water, and some mild detergent powder, and rub the soapy fabric gently over the statue until it looks shiny and perfectly cheerful.
The rough weather might demand that you take extra care for your bird sculptures, so, just cleaning might not be enough to keep them in the pristine condition. Sometimes, the bronze statue can lose its natural shine and outer coating and by polishing, you can bring back the luster easily. Use good quality polish and wax all over your bird statue. Also, make sure you apply the chemical over every nook and corner, so there is no place left with patches of the old layer.
Online Beautiful Bronze Bird Statues for sale
Bronze statues are not only limited to only human sculptures, but countless other stuffs make excellent inspiration for brilliant bronze sculptures. And decorating homes with numerous types of bronze sculptures is sort of an old tradition. You could too, decorate your beautiful home with beautiful bronze sculptures if you want.
Nifao.com is the right place to poke at if you are looking for bronze statues – it presents some of the coolest bronze bird statues, bronze fountains, children statues, modern art sculptures, etc. And, as you have read above, taking care of bronze statues isn't a tough task at all. Just a little cleaning up, and you can enjoy the presence of your shiny, beautiful bird friends.