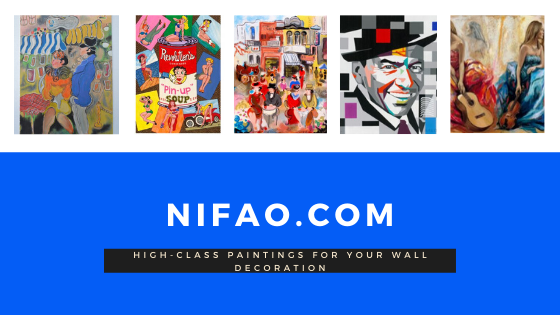 Are you sick of looking at your bare walls? Do they need some art to adorn them? If you think so, then you are in the right place. I am going to tell you some things about the paintings, where and how to purchase them, and so forth.
Art is something that brings you joy, reflection, and sometimes some new perspective of things, as Thomas Merton had wisely stated, "Art enables us to find ourselves and lose ourselves at the same time." So, let's find out how we can find some art to embellish your walls and as a bonus, embellish your soul.
A Few Words for Painting
Painting is to apply pigment, color, or other substances artfully on a surface, preferably on a canvas, but other surfaces can be used, too. The history of painting is quite ancient, a form of wall paintings can be found in caves done in archaic times.
Although their purpose of painting was to express their thoughts which they were unable to put in words, in modern times, we don't need necessarily need to paint to express our thoughts. Or, maybe we do. Sometimes what we cannot express with our vast vocabulary of words, can be communicated on a deeper level with a few strokes of a paintbrush. Perhaps, it is one of the reasons why painting has seen so much growth, and it continues to spread its branches further and further.
Paintings for Your Wall
Now that we know a thing or two about painting, let's see what type of art you should buy for your wall. To be fair, you can use any type of painting for your home wall, you just have to be careful what purpose the room confined by the wall serves for. And which painting represents your personality well. If you have covered these two sides well, then you are good to go.
There are numerous verity of paintings, if you prefer a certain type, such as watercolor painting, or oil-based painting, or, acrylic painting, or any other types, you can have them without hesitation, but consider the issue of heat and dampness before that.
Wall art has much diversity in its style – fine art, modern art, impressionism, pop art, surrealism, and so on. There are reproductions of famous art, so, if you fancy those, you can get one or two of them for your wall as well.
Where to buy your paintings
Today's age when you can get almost anything without much trouble and in a relatively short time. there are many art and craft shops where you will find art for your wall decoration. There are also some online shops that sell paintings by fine artists. Nifao.com is one of the online art selling online shops from where you can buy a painting or any form of art such as bronze sculptures, chandeliers, modern art statues, bronze fountains, etc. So, if you want to add some more art to decorate your home, then you will easily find them right here. The website offers high-class art crafts at the most reasonable price, so you don't have to worry much about the budget and you can still get the art you fancy.